Dow Jones closed in positive territory



Low inflation puts investors in a good mood

01/27/2023 at 10:20 p.m
Car makers Tesla and Lucid can look forward to significant price gains. Sentiment is rising on Wall Street in general, as the view of a weak economy raises hopes that the US Federal Reserve will ease interest rate policy.
The easing of inflation fears and investor delight at the resounding coffers of major credit card providers buoyed US stock exchanges. On the other hand, a drop in the price of chip maker Intel dampened the mood after a disappointing outlook, while electric car maker Lucid caused quite a stir with an explosion in prices. the Dow Jones index And the widest Standard & Poor's 500 The index rose 0.08% and 0.25% to 33,978.01 points and 4,070.55 points. Technology Exchange Index Nasdaq It was up by about one percent at 11,621.17 points.
Weak inflation is currently providing a glimmer of hope in stock markets, fueling hopes of an end to interest rate hikes by the US Federal Reserve. The personal consumption expenditures (PCE) index, the Fed's preferred measure of inflation, rose 0.1 percent last month after a similar rise in November. Meanwhile, US consumer spending fell for the second month in a row. "The Fed should tread carefully in light of the deteriorating economic outlook," said Christopher Rupke, economist at FWDBONDS trading house. Looking at the Federal Reserve meeting on Wednesday, analysts are currently expecting a rate hike of 25 basis points.
Tesla It was able to carry on with its old glory days as an investor favorite. After positively received numbers from the electric vehicle maker, private investors hopped on the moving train and, according to Vanda Research, set a new record for stake purchases. Tesla shares jumped 10.99 percent to $178.87, the highest level in more than a month and a half. On a weekly basis, Tesla was trending up about 33 percent.
There was also a price explosion at the competitor Lucidwhose shares rose more than 44 percent to $12.96. Market participants attributed the jump to speculation that Saudi Arabia might buy the remaining shares in Lucid. It can be traced back to a report on a website that has been described as a market rumor. The Saudi state investment fund PIF already owns more than 65% of Lucid. Concerned parties declined to comment. US credit card issuers Visa and American Express (Amex) posted better-than-expected earnings growth and an optimistic outlook. Visa shares gained three percent, and Amex gained more than twelve percent.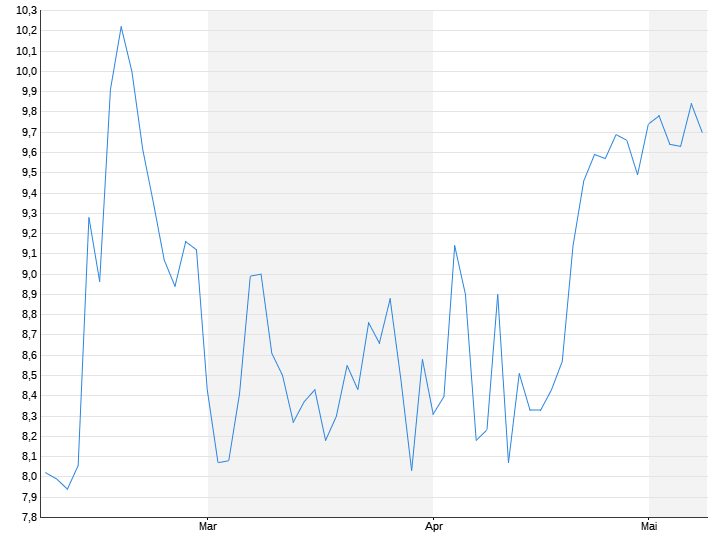 IntelShares fell 6.41 percent after the company posted its worst sales decline in at least two decades and warned of further declines due to weak demand for computers. A record profit was delivered to investors chevron not who. Shares of the oil company fell 4.27 percent to $179.78. Although earnings more than doubled to $36.5 billion in 2022, it fell short of stock marketers' expectations due to asset writedowns and lower oil and gas prices. Peter McNally, an analyst at Third Bridge, said that by the end of the year, all four reporting segments showed profits declining from the record levels set in the second and third quarters of 2022.
Also shares of an American tire manufacturer new Year lost 3.65 percent. The group is cutting five percent of its jobs worldwide to counter high cost pressure. However, this also carries a financial burden of about $55 million. In the fourth quarter, business did not live up to expectations, said President Richard Kramer.
#inflation #puts #investors #good #mood